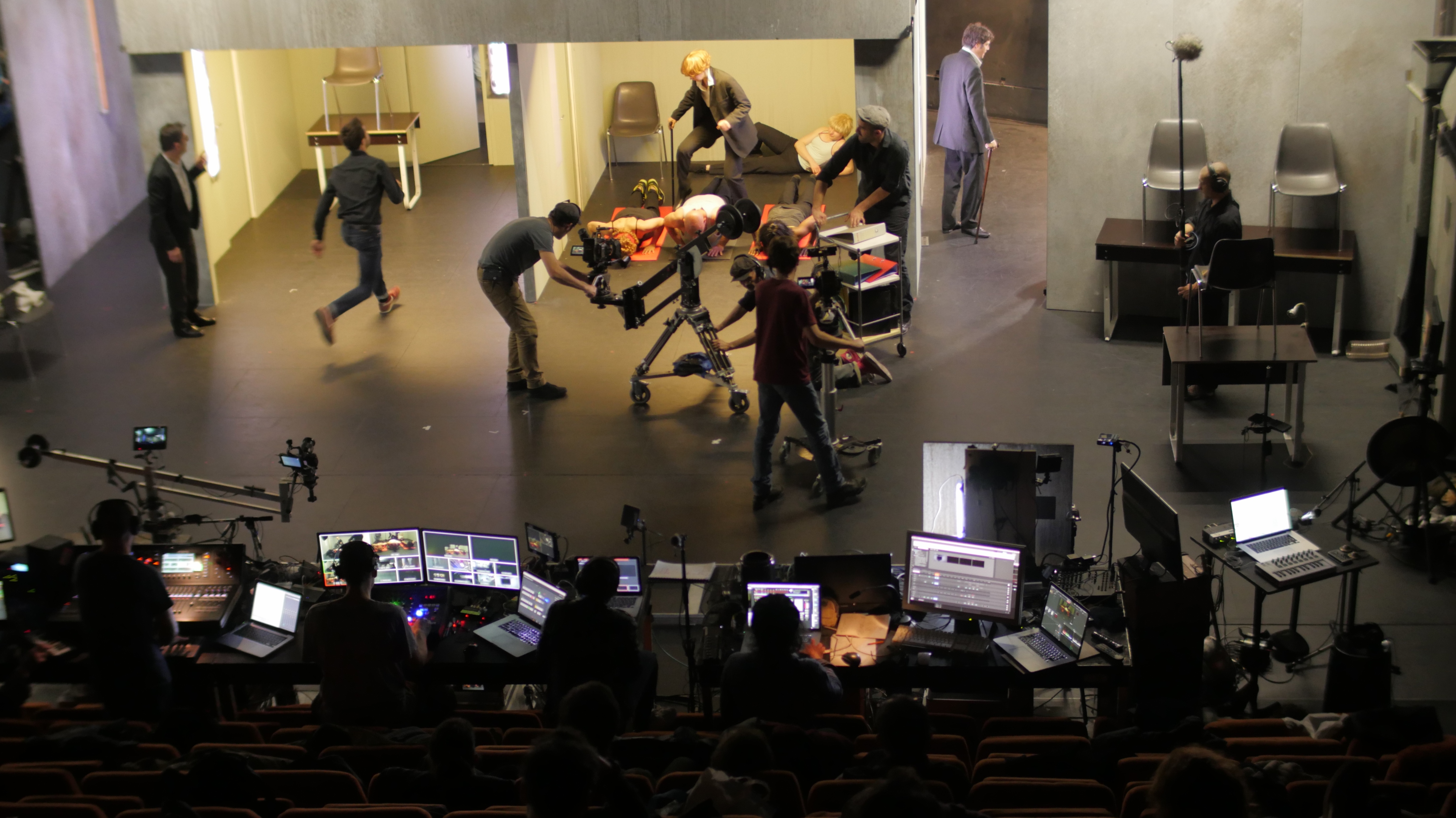 UNDERGROUND
Scènes Théâtre Cinéma & Neither Nor
Underground is a co-production between the French company Scènes Théâtre Cinéma and the Norwegian company Neither Nor. The performance consists of the live shooting, editing and transmission of an hour-long film, the themes of which are derived from the work of Franz Kafka.
A production by Scènes Théâtre Cinéma & Neither Nor
Director: Philippe Vincent
Sound & music: Alwynne Pritchard & Thorolf Thuestad
Actors: Mathieu Besnier, Estelle Clément-Bealem, Anne Ferret, Bob Lipman, Alwynne Pritchard, Thorolf Thuestad, Philippe Vincent and others
Musicians: Ole André Farstad (guitars), Eva Pfitzenmaier (voice, keyboard, recorder, sound effects), Jostein Gundersen (recorders), Øyvind Hegg-Lunde (drums)
Director of photography: Pierre Grange
Costumes: Cathy Ray
Scenography: Benjamin Lebreton, Jean-Philippe Murgue
Live editing: Baptiste Deyrail

Co-production: Scènes Théâtre Cinéma, Neither Nor, Théâtre Nouvelle Génération, BIT Teatergarasjen
Underground is the story of a man who finds himself at a juncture where several destinies meet, and by force of circumstance becomes involved in issues that have nothing to do with him, he is but a walk-on, a side-kick, like the stooge he is simply a pawn. The story begins at a time when any possible redemption has expired, a time when God's reign has ended.

Underground is an immersive cinematographic performance. The spectators are divided into two groups and therefore experience the same reality from two different perspectives. The theatre is at once a film studio, a dream machine, and a projection room. Reality and fantasy are mixed reflecting Kafka's unique vision which instils his works with such a singular atmosphere. It is a dual, fluctuating world.